EDRACI Home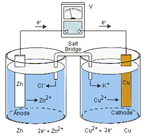 Welcome to EDRACI, the Electrochemistry Division of the Royal Australian Chemical Institute.
The Division exists to promote the study, research, and application of electrochemistry, especially within Australia. The Division has a Chair, Secretary and Treasurer, who are part of the elected committee.
Activities of the Division include:
organization of meetings, symposia, postgraduate student schools, and local workshops
sponsoring awards to recognise achievement in Australian and international electrochemistry
disseminating information of interest to electrochemists via this website
an email list to provide rapid announcements to the electrochemical community
other initiatives that promote electrochemistry.
The last meeting of the Division was in Adelaide at the
*** NEW ***