EPU160

Event Recorder mmb16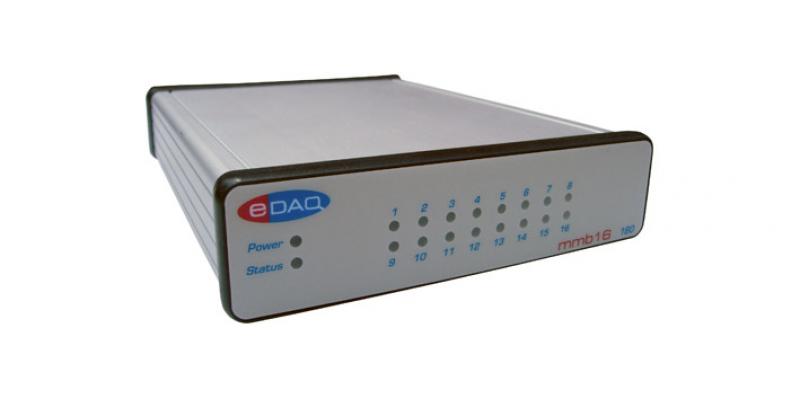 USB connectivity
virtual serial port technology
binary events converted to human readable plain text
The eDAQ mmb16 unit is an Event Recorder with a USB/virtual serial port connection.
Each mmb16 records the status of up to 16 time-stamped event lines (TTL or contact closure events). Multiple mmb16 units can be connected to the same computer. Each event can be used to trigger the output of a pre-set, user-defined, text message as a serial formatted character string over the USB interface. That is, an event takes place and the mmb6 sends out a human-readable plain text message to your computer.
The events are typically on/off, high/low, or other binary type-signals found in process control, animal behaviour, or similar experiments. For example pressing of a button to dispense a food reward is an on/off event. Other situations could be:
lights, on/off
heater, on/off
flow pump, high/low
position (eg a rat passing a point in a maze), yes/no
The mmb16 is supplied with a Chart software extension which allows easy use with an e-corder and converts the binary events to messages which appear as 'Chart comments'. Alternatively the serial protocol can be accessed by:
writing your own software, for example in LabView, C#, Visual Basic, etc.
terminal emulation software compatible with serial (COM) ports, eg TeraTerm, HyperTerminal.
other serial (COM) port compatible software that can log responses into a file or Excel document, eg WinWedge, HyperAccess.
Inputs: 16
Event type: TTL or contact closure (CC)
TTL event detection: Rising edge, falling edge, or pulse
TTL input level: -0.1 to 5 V
ESD protection: Class 3
Input filter: 100 ohm/100 nF
Input current: 5 mA maximum
Input event indicators: 16 LED indicators on front panel
Input sampling rate: 10 kHz (0.1 ms)
Data buffering: Up to 1000 events
Communications port: USB 2 compliant
Power: USB (5 V DC)
Dimensions, W x L x H: 130 x 170 x 35mm
Weight: 725 g
More Information

EPU160_Event_Recorder_mmb16_manual (690 KB PDF)
Ordering: EPU160 Event Recorder mmb16

Also see:
ED410 e-corder 410 High Resolution Laboratory Data Recorder
ED821 e-corder 821 High Resolution Laboratory Data Recorder
ED1621 e-corder 1621 High Resolution Laboratory Data Recorder