ER7006

MultiSensor Teaching Kit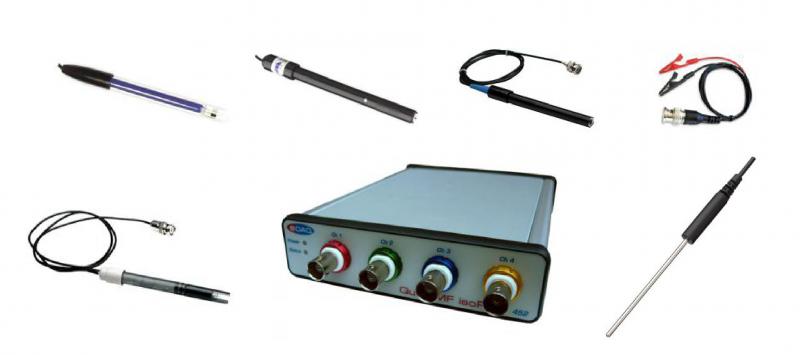 Multi-function meter
Electrodes for pH, dO2, conductivity and more
Software for collecting and graphing data
This kit includes all the hardware, software and electrodes to develop a range of experiments for teaching students about sensors and biosensors used in chemistry and biochemistry.
You can reconfigure the Quad MF isoPod yourself to measure pH, temperature, conductivity, dissolved oxygen, voltage and amperometric sensors.
Instead of buying separate meters to record pH, temperature, conductivity etc, this economical and flexible precision instrument will do it all in one.
The kit includes Pod-Vu software for collecting and plotting data. You can also use your own software such as LabVIEW, C#, or use WinWedge or HyperAccess to log the data directly into Excel. The EPU452 connects directly to the computer using USB.
The sensor kit includes:
The kit can be used, together with other equipment, to perform a range of exciting teaching sensor experiments including:
Measuring the pH of everyday drinks
Determining how waste can alter the acidity of soil and how the pH can affect the growth of plants
Recording the effects of antacids on stomach acidity
Measuring the enthalpy of neutralisation of an acid-base reaction
Determination of the sodium monofluorophosphate content of a toothpaste sample using a fluoride ion-selective electrode
Monitoring the oxygen consumption of a shrimp
Measuring the rate of photosynthesis with an oxygen meter
Monitoring the respiration rate of germinating seeds using a pressure sensor
Measuring the amount of carbon dioxide exhaled by a human in rest and during exercise
Specifications for the EPU452 Quad MF isoPod (see individual product webpages for specifications of electrodes):
Input connectors: 4, female BNC.
Computer connection: USB, Type B socket. Cable supplied.
Isolation: > 250 Vrms independent on each channel
Power: 500 mA @ 5 V DC. Main adaptor supplied.
Dimensions:

170 x 130 x 35 mm
Weight: ~800 g
Input impedance:

1013 ohm
Input ranges:

±2000 mV
Input impedance:

> 1012 ohm
Input ranges:

±2000 mV (> pH 0 – 14), ±200 mV (pH 3.6 – 10.4)
Calibration:

Single or double point

(with Pod-Vu or MF Configurator)
Input ranges:

200, 20, 2, 0.2, 0.02 0.002 mS
Calibration:

Single point. Conductivity or TDS
dO2
Input ranges:

±2 mA, ±200, ±20, ±2 µA, ±200, ±20 nA
Polarization:

0, then –500 to –1000 mV in 50 mV steps (with Pod-Vu or MF Configurator)
Zero offset range:

±20 µA
Typical RMS noise:

1 pA when sampling at 1/s
Calibration:

Single or double point

(with Pod-Vu or MF Configurator)
Input ranges:

±2 mA, ±200, ±20, ±2 µA, ±200, ±20 nA
Polarization range:

±2000 mV in millivolt steps
Zero offset range:

±20 µA
Typical RMS noise:

1 pA when sampling at 1/s
Calibration:

Single or double point

(with Pod-Vu or MF Configurator)
More Information

Add to Shopping Cart

Also see:
EPU452 Quad Multi Function isoPod with USB
ET5733 pH Electrode - Tuff Tip
ET060 Redox Electrode
ET1117 Polarographic Oxygen Electrode
ET902 Conductivity Probe, k=1
ET021 RTD Temperature Probe