ET121

Microchip Platform with C4D Electrodes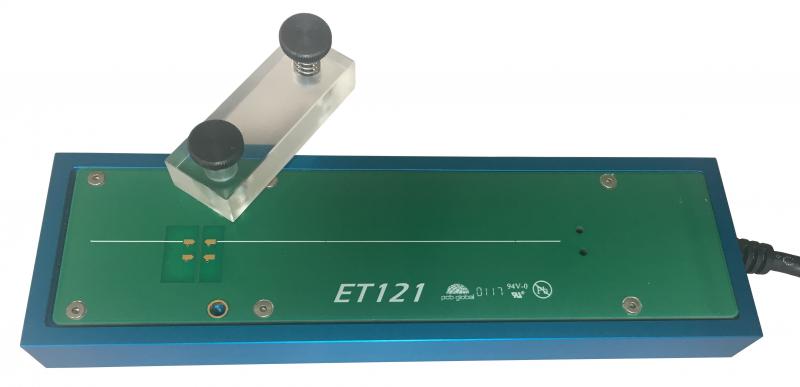 C4D detector for microfluidic chips
Use with glass or polymer microfluidic chips

The platform can be used as a capacitively-coupled contactless conductivity detector (C4D) for microchip electrophoresis and other experiments. C4D can be used for virtually all charged species: inorganic anions and cations, as well as organic ions, such as carboxylic acids, amines, amino acids, peptides, proteins, DNA fragments, antibiotics and many other pharmaceutical compounds.
An electrophoresis microfluidic chip can be positioned on top of the C4D platform, with the channel positioned so as to pass across the pair of electrodes which transmit and receive the AC signal. The C4D unit generates the excitation waveform, and provides signal filtering and offset. The platform must be connected to an ER815 or ER225 unit.
The platform comes with two ET195-2 Zeonor Chip for Microchip Electrophoresis included. The platform was tested using this microchip which has a channel with a 75µm x 75µm square cross section, a channel length of 87mm and a cover thickness of 100µm. Chips with a similar user-developed design can be used with this device but eDAQ cannot guarantee the results obtained.
A procedure using the ET121 in a microchip electrophoresis experiment can you seen here.
Research Areas
Application Notes
Citations
Electrode dimensions: 2mm x 1mm
Electrode separation: 2mm
Platform Dimensions: 50mm x 165mm x 30mm
Platform Weight: 250gm
Balanced bridge configuration.
Excitation sinewave: 100 to 1200 kHz
Excitation amplitude: 10 to 100 Vpp
Connector: 10 Pin Lemo (for the ER815) or 8 Pin DIN (for the ER225); request when purchasing

More Information

ET121_Microchip_Platform_with_C4D_Electrodes (240 KB PDF)
Ordering: ET121 Microchip Platform with C4D Electrodes

Also see:
ER225 Contactless Conductivity C4D System
ER815 Contactless Conductivity Detector
ER430 High Voltage Sequencer for Microchip Electrophoresis