EDRACI Home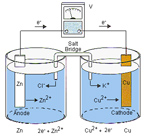 Welcome to EDRACI, the Electrochemistry Division of the Royal Australian Chemical Institute.
The Division exists to promote the study, research, and application of electrochemistry, especially within Australia. The Division has a Chair, Secretary and Treasurer, who are part of the elected committee.
Activities of the Division include:
organization of meetings, symposia, postgraduate student schools, and local workshops
sponsoring awards to recognise achievement in Australian and international electrochemistry
disseminating information of interest to electrochemists via this website
an email list to provide rapid announcements to the electrochemical community
other initiatives that promote electrochemistry.
The

next meeting

of the Division will be at the RACI National Centenary Congress, 23-28 July, 2017 in Melbourne.

The Sokes Medal will be awarded to

Professor Huijun Zhao of Griffith University. The Bond Medal will be awarded to Dr Simone Ciampi of Curtin University.

The last meeting of the Division was the

20th Australian/New Zealand Electrochemistry Symposium (20ANZES) and ISE Satellite Student Regional Symposium on Electrochemistry, Sunday 17th April 2016 at the University of Auckland, New Zealand. Held in conjunction with the New Zealand Institute of Chemistry and the ISE.