BIA-E1071-50mg

Enniatin complex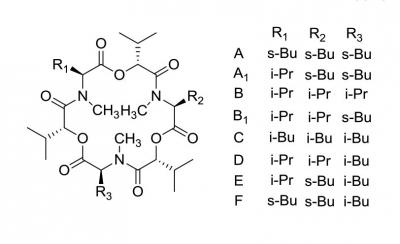 Enniatins are a family of macrocyclic depsipeptide ionophores, produced by several Fusarium fungi.
This extract is a mixture that contains 4 major components: enniatins A, A1, B, and B1, (all available as pure compunds) as well as minor amounts of enniatins C, D, E and F.
Beauvericin is a closely related molecule where R1 = R2 = R3 = benzyl.
Study the effect of this compound on planar phospholipid bilayers with tethered membrane preparations.
This product is intended for in vitro research and educational experiments. It is not suitable for clinical purposes and is not for human or veterinary use. Made by BioAustralis Sydney, Australia.
Quantity: 50 mg
Purity: >95% enniatins
More Information

Add to Shopping Cart

Also see:
BIA-E1071-50mg Enniatin complex
BIA-E1071-10mg Enniatin complex
BIA-E1165-2.5mg Enniatin A
BIA-E1165-0.5mg Enniatin A
BIA-E1166-5mg Enniatin A1
BIA-E1166-1mg Enniatin A1
BIA-E1167-5mg Enniatin B
BIA-E1167-1mg Enniatin B
BIA-E1168-5mg Enniatin B1
BIA-E1168-1mg Enniatin B1
BIA-B1238-25mg Beauvericin
BIA-B1238-5mg Beauvericin