isoPods: Streaming Meters for Recording Temperature, pH, Conductivity and Dissolved Oxygen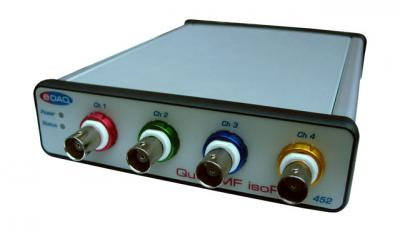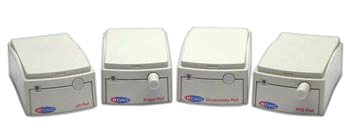 eDAQ isoPods™ are portable streaming data recorders. These electrically-isolated meters can be used for recording data in situations where signal noise and crosstalk would otherwise be an issue. Our USB isoPods data recorders are compatible with National Instruments LabVIEW, and other software, using virtual COM port technology. Alternatively, isoPods™ ship with a copy of eDAQ's easy to use Pod-Vu software for data recording. The free version allows recording from a single isoPod unit; purchasing a full copy of Pod-Vu allows the user to record from multiple isoPod units connected to the same computer (up to 8 channels). View the two minute video here.
USB isoPods
USB isoPods attach directly to a computer USB port or to a USB hub. Use eDAQ Pod-Vu software to log and graph signals directly to a Windows XP or later computer, or you can write you own special pupose software using LabView, C++, etc to communicate with these isoPods.
When using more than four USB isoPods on the one computer a good quality powered USB hub is required (eg Belkin model F4U041 or similar).
e-corder isoPods
e-corder isoPods attach to the Pod ports on front panel of the e-corder unit. They become an extension of the e-corder system and are fully controlled by Chart or PowerChrom software.
| | | |
| --- | --- | --- |
| | pH and ISE isoPod | pH meter for recording from pH, ion selective and ORP electrodes |
| | Dissolved Oxygen isoPod | a compact dissolved oxygen meter for recording dissolved oxygen using polarographic (Clark) electrodes |
| | Nitric Oxide isoPod | nitric oxide meter for recording nitric oxide using polarographic electrodes |
| | Biosensor isoPod | for amperometric electrodes and sensors |
| | Conductivity isoPod | conductivity meter for recording conductivity of a solution with a two electrode conductivity probe |
| | Thermocouple isoPod | temperature meter for recording temperature using most types of thermocouple probes |
| | RTD/Thermistor isoPod | temperature meter for recording temperature with RTD or Thermistor probes |