CEI

Capillary Electrophoresis with C4D and UV Detection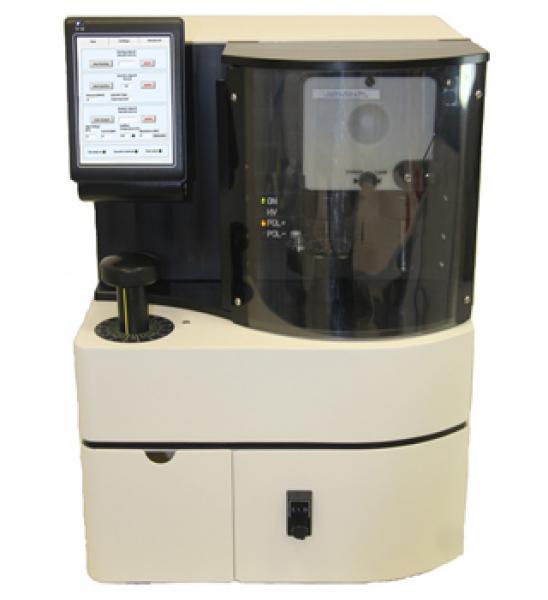 Economical, Easy to use
Flexible and upgradable
Choice of detectors
The CEI is an easy to use, economical capillary electrophoresis (CE) instrument perfect for research and teaching. It has an innovative modular design where each module is easily accessible and interchangeable. This makes maintenance a lot easier and it allows for a flexible, upgradable system.
The instrument is equipped with a touchscreen panel. The simple user interface makes it easy to set up and launch analysis. The data is collected and analysed in PowerChrom software.
The instrument allows for both hydrodynamic or electrokinetic sample injection. The capillary is housed in a cartridge and the temperature is regulated using a flow of air. The CE instrument can be connected to other instruments (MS, LC or ICP) using an optional external detector cartridge.
It can be ordered with both contactless conductivity (C4D) and UV detectors, C4D detector only, or UV detector only.
The instrument can be set up in its simplest configuration for a quick analysis and as an excellent teaching and training tool for capillary electrophoresis. It can be upgraded to a semi-automatic or automatic configuration with the optional automated sample carrousel.
The instrument has been used in a wide range of applications, including:
Food and beverage: quality control, food safety, oenology…
Environmental: analysis of water, soil, air…
Pharmaceutical: counterfeit drugs, quality control, chirality
Medical: screening and diagnosis
Research Areas
Technical and Application Notes
Citations
Hydrodynamic injection by vacuum at the cathode side. Adjustable from 0 to 2.4 bars. Set at the factory at 50 mbars.
Electrokinetic injection +/- 30 kV with ramping rate of 1kV/sec. Setting the injection from 0 to 99 seconds.
Flushing: Rinsing pressure by cathode vacuum at 900 mbars. Flushing time from 0 to 99 minutes.
Voltage / Current: +/- 30 kV with automatic reverse polarity / -250 μA to +250 μA.
Manual Carousel: 1 carousel, 16 positions at the anode and 1 fixed 10 ml cathode vial.
Sample and buffer volumes: Minimum 10 μl (using micro insert vial) up to 1.5 ml for samples and buffers at the anode side. 10 ml for fixed cathode vial.
Capillary temperature regulation: Thermoelectric by forced air (Peltier). 15°C to 50°C by steps of 0.1°C. Temperature stability 0.1°C.
Capillary length: Minimal total length 30 cm. Efficient length 22 cm.
Detectors: Choice of C4D and UV, C4D only, or UV only. UV/VIS adjustable mono wavelength with D2 lamp (option for Tungsten). Capacitively Coupled Contactless Conductivity Detector (C4D).
Special external detector: Special cassette for external detector (MS, ICP …).
Safety: Safety Interlock disables High voltage when opening instrument door.
User interface: 5,7" Touchscreen interface with easy-to-use software.
Data collection: PowerChrom software
Power requirements: Voltage 100 to 240 Vac, 50/60 Hz; Power 400 VA
Dimension (W x H x D): 39 x 60 x 44 cm (15.4 x 23.6 x 17.3 inch)
Weight: 35 kg (77 lbs)