Zahner THALES Software Package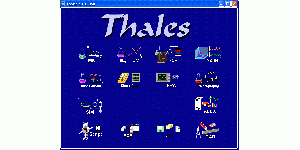 Thales Software Package
The powerful Thales software package is part of the standard equipment of each IM6 and ZENNIUM system. It provides a multitude of measuring and analysis methods.
The Thales software provides unique features for the acquisition and analysis. The most prominent examples are SCRIPT and SIM. SCRIPT offers you to combine all types of electrochemical measurements, mathematical analysis, algorithms, documentation and data export to a reproducible, fully automatic process. With the outstanding features of SIM you are able to create equivalent circuits and fit the measurement data to these models. The ZHIT feature of SIM helps you to validate your impedance spectra.
For evaluation only it is also possible to run Thales Software Package on a Thalesbox. The Thalesbox provides a single user licence of Thales. So you can process your recorded data on a simple PC or Laptop meanwhile your tests still runs on the IM6 or ZENNIUM...
System requirements:
• IBM compatible PC with Microsoft® Windows® 32-/64-Bit operating system
• Signated driver for Windows® XP, Windows Vista®, Windows® 7 and Windows® 8
• USB 2.0
For more information please refer directly to the Zahner website:
http://zahner.de/products/software/thales-software-package.html