ED410

e-corder 410 High Resolution Laboratory Data Recorder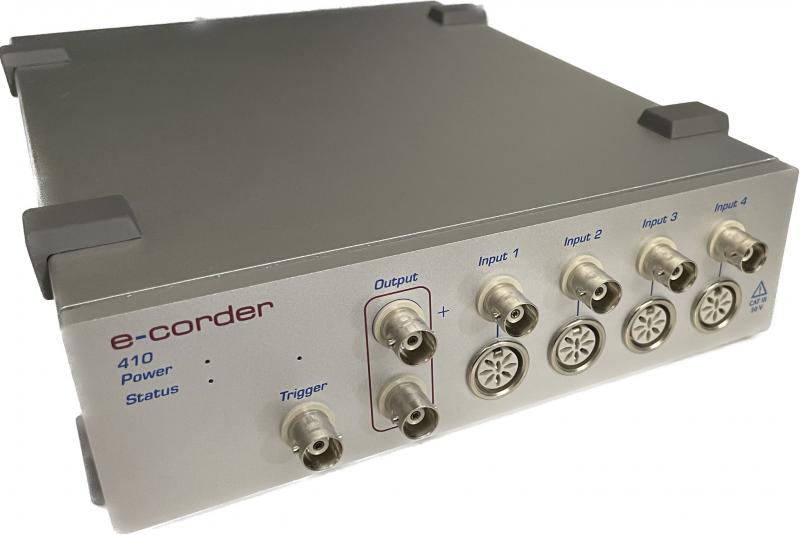 Connects to a wide range of instruments and meters
No programming required – plug and play installation
High Resolution (16 bits), high speed 100k
Enormous feature set for laboratory recording
Analysis features built into software
Windows 7, 8 and 10 compatible
e-corder units are used for the collection, display and analysis of signals from many types of laboratory instruments. They connect to Windows and Macintosh computers via USB, and are supplied with
Chart and Scope software. Windows 7, 8 and 10 compatible
Unlike many specialist data acquisition systems, e-corder can be used to collect data from completely different types of sources on different channels (e.g. pH, oxygen concentration, and temperature) because channel sensitivity and filtering is independently adjustable.
Replace your chart recorder, XY plotter, or oscilloscope (to 100 kHz), with e-corder to get the benefits of the latest generation of computer technology in your laboratory.
Typical instruments used with e-corder units include:
potentiostats and galvanostats (see also EChem software)
pH and ion meters
dO

2

meters
temperature monitors
accelerometers and vibration sensors
load cells
pressure, force and displacement transducers
calorimeters
stopped-flow and other kinetics systems
photometers and colorimeters
chromatographs (see also PowerChrom software)
For more examples, see the research and teaching applications pages.
e-corder can be used with most devices supplying an analog voltage signal up to ±10 V.
e-corder connectors
The front panel of e-corder units have connectors for the analog input signals, an analog output signal, and a trigger connector so that recording start and stop times can be synchronized with other instruments.
Analog inputs
Each analog input channel is fitted with an easy-to-use BNC connector. The gain of each input can be independently adjusted, in software, to record signals from microvolts to a maximum of ±10 V. Up to four input channels also have alternative 8-pin DIN connectors for connection of eDAQ Pods, or for signals requiring differential input. Each input channel also has a range of low pass filter settings from 20 kHz to 1 Hz.
Analog output
The e-corder unit can generate a voltage signal via its analog output sockets, giving bipolar (simultaneous positive and negative) signals up to ±10 V.
Trigger
An external device can provide a trigger signal to the e-corder to synchronize recording.
All software Windows :
7, 8 or 10
(32 and 64 bit compatible).
Analog Inputs
Number of Input channels: 4 (BNC or 8-pin DIN)
Input configuration: Single-ended (BNC) or differential (DIN)
Amplification range: ±20 mV to ±10 V full scale in 9 steps
Range, Gain:
±10 V 1
±5 V 2
±2 V 5
±1 V 10
±0.5 V 20
±0.2 V 50
±0.1 V 100
±50 mV 200
±20 mV 500
Maximum input voltage: ±50 V
Input impedance: ~1 MΩ || 47 pF @ DC
Anti-aliasing filter: 25 kHz
Frequency response (–3 dB): 25 kHz @ all ranges
DC drift: Software corrected zero
CMRR (differential): 105 dB @100 mV range
Channel crosstalk: less than –90 dB
Input noise: <2.4 μVrms referred to inputI
Pod Connectors
Connector type: 8-pin DIN
Supply voltage: ±5 V regulated
Maximum current: 50 mA per Pod port
Communications: 2 wire I2C
Signal input: Differential or single-ended analog inputs
Sampling
ADC resolution: 24 bit hardware
16 bit Chart and Scoipe software
16 – 24 bits EChem and PowerChrom software
Linearity error: ±0.1%
Maximum sampling rates: 100 kHz/channel
Available sampling rates: 12/h to 100 kHz using Chart software
2 Hz to 100 kHz using Scope software
Output Amplifier
Output configuration: Bipolar
Output resolution: 16 bits
Maximum output current: 20 mA continuous
Output impedance: 0.01 Ω typical
Slew rate: 2.3 V/μs
Settling time: 5 μs (10 V step on 10 V range)
Output range: ±200 mV to ±10 V (software-selectable)
Range (V) Resolution (μV)
±10 312.5
±5 156.5
±2 62.5
±1 31.25
±0.5 15.625
±0.2 6.25
Output Zero error <0.5 mV
External Trigger
Trigger mode: TTL level (non-isolated) or contact closure (isolated) software selectable.
Trigger threshold: 2.0 ± 0.25 V
Hysteresis: 0.6 V typical
Maximum input voltage: ±12 V
Minimum detectable event: 3 μs
Microprocessor and Data Communication
CPU: Freescale DSP56858
RAM: 4 Mbit SRAM
ROM: 1 Mbit flash ROM
Data communication: USB 2.0 or 1.1 compliant (up to 480 Mbits/s)
Expansion Ports
I2C expansion port: Power and control bus for eDAQ Amps (maximum
of 500 mA).
Physical Configuration
Dimensions (w x h x d): 200 x 65 x 250 mm (7.9" x 2.6" x 9.8")
Weight: 2 kg (4.41 lb)
Operating voltage: 90 to 250 V AC 50/60 Hz
Nominal power needs: <18 VA (including eDAQ Amps and Pods attached).
<50 mA @ 240 V or <100 mA @ 115 V)
Operating conditions: 0 to 40 °C
0 to 90% humidity (non-condensing)
eDAQ Pty Ltd reserves the right to alter these specifications at any time.
More Information

ED410_e-corder_410 (850 KB PDF)
Ordering: ED410 e-corder 410 High Resolution Laboratory Data Recorder

Also see:
ED821 e-corder 821 High Resolution Laboratory Data Recorder
ED1621 e-corder 1621 High Resolution Laboratory Data Recorder