ER181R

One Channel PowerChrom Chromatography Data System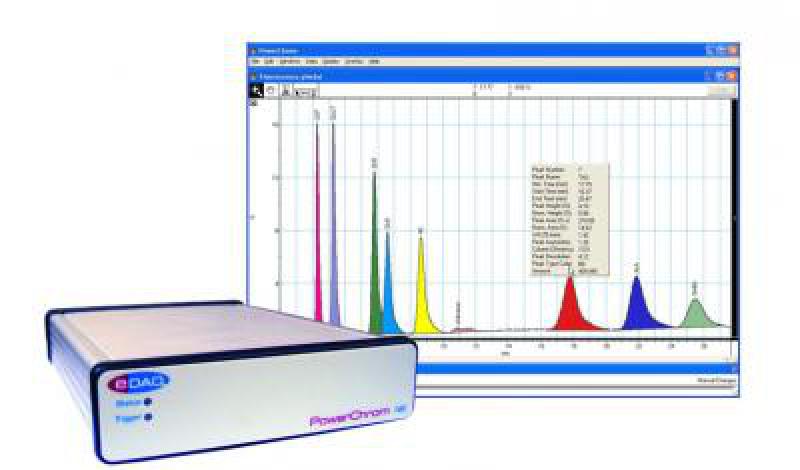 Collect, display and analyse chromatography data
Upgrade your GC, HPLC, IC or FIA
Supprt for one detector with 24 bit resolution
This system comprises a PowerChrom 181 single channel data acquisition hardware unit with PowerChrom software. The system can be used with a single detector for most types of gas or liquid chromatography applications, as well as related techniques such as capillary and microchip electrophoresis, and flow injection analysis (FIA) techniques using the optional Chart software with FIA extension.
High signal resolution is provided by a 24 bit sigma-delta converter while internal amplifiers can match the sensitivity of the channels to your detector's maximum output (with ranges of 10 mV to 10 V). A trigger input function is also provided.
Supplied with Windows-compatible PowerChrom software. Communicates with PC via USB.
The hardware unit is very versatile, as it can be used with different eDAQ software packages for different applications. It can be used with:
Application Notes
Citations
Oral administration of glycine increases extracellular serotonin but not dopamine in the prefrontal cortex of rats. Makoto Bannai, Nobuhiro Kawai, Kenji Nagao, Sayako Nakano, Daisuke Matsuzawa, Eiji Shimizu. Psychiatry and Clinical Neurosciences, 65, 142–149, 2011.
Protective Role of rAAV-NDI1, Serotype 5, in an Acute MPTP Mouse Parkinson's Model. Jennifer Barber-Singh, Byoung Boo Seo, Akemi Matsuno-Yagi, and Takao Yag. Parkinsons Disease, 2011; 2011: 438370.
Hollow fiber liquid-phase microextraction for the determination of trace amounts of rosiglitazone (anti-diabetic drug) in biological fluids using capillary electrophoresis and high performance liquid chromatographic methods. Khaldun M. Al Azzam, Ahmad Makahleah, Bahruddin Saad, and Sharif M. Manso. Journal of Chromatography A, 1217, 3654-3659, 2010.
Behavioral Response and Transmitter Release During Atonia Elicited by Medial Medullary Stimulation
Yuan-Yang Lai, Tohru Kodama, Elizabeth Schenkel, and Jerome M. Siegel. Journal of Neurophysiology, 104, 2024-2033, 2010.
Effects of Ethanol on Extracellular Levels of Adenosine in the Basal Forebrain: An In Vivo Microdialysis Study in Freely Behaving Rats. Rishi Sharma, Samuel C. Engemann, Pradeep Sahota, Mahesh M. Thakkar. Alcoholism: Clinical and Experimental Research, 34, 813–818, 2010.
Lipocalin based biosensors for low mass hydrophobic analytes; development of a novel SAM for polyhistidine tagged proteins. M.A. Rodgers, J.B.C. Findlay, and P.A. Millner. Sensors and Actuators B: Chemical, 150, 12-18, 2010.
Lower emission plant using processed low-rank coals. G. Domazetisa, P. Barilla, and B.D. James. Fuel Processing Technology, 91, 255-265, 2010.
Determination of triazine herbicides using membrane-protected carbon nanotubes solid phase membrane tip extraction prior to micro-liquid chromatography. H.H. See, M. Marsin Sanagi , Wan Aini Wan Ibrahim, and A.A. Naim. Journal of Chromatography A, 1217, 1767-1772, 2010.
Deleterious effects in mice of fish-associated methylmercury contained in a diet mimicking the Western populations' average fish consumption. Jean-Paul Bourdineaud, Masatake Fujimura, Muriel Laclau, Masumi Sawada, and Akira Yasutak. Environment International, 37, 303-313, 2011.
Input: differential or single ended.
Input ranges: ±10, ±100 mV, ±1, ±10 V full scale.
Signal resoltion: 24 bit resolution.
Sampling rates: 100/s to 12/hour.
Trigger input: contact closure.
More Information

ER180R_ER181R_PowerChrom (510 KB PDF)

Add to Shopping Cart

Also see:
ER180R Two Channel PowerChrom Chromatography Data System