ER180F

Flow Injection Analysis System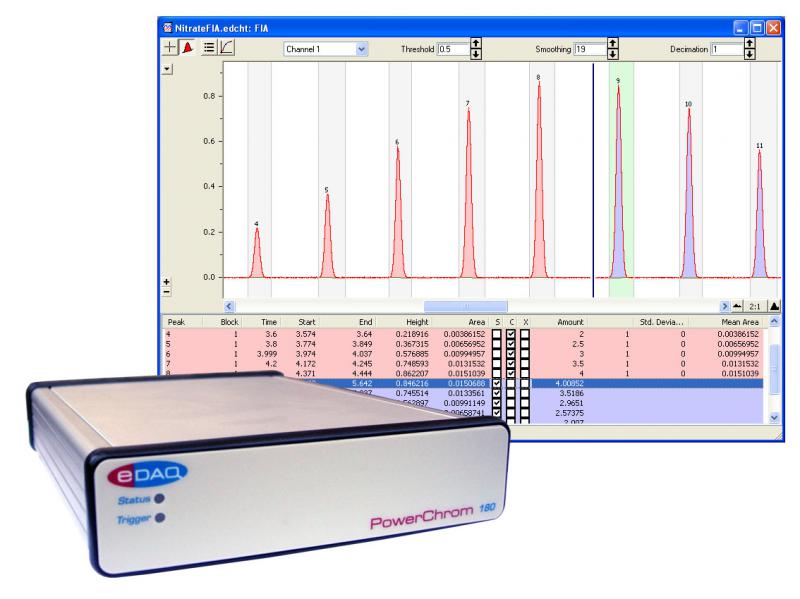 Turns a PC into a FIA data workstation
Suitable for use with most detectors
The Flow Analysis System is used for the detection, display and analysis of peaks from Flow Injection Analysis (FIA) and similar experiments. It comprises a ER180 or ER181 hardware unit, Chart software, FIA Chart extension and Event Manager Chart extension.
The ER180F has two input channels, while the ER181F has one input channel.
Turns a PC into a FIA data workstation
No programming required - just plug and play
Collect signals from one (ER181F) or two (ER180F) detectors
Independently selectable input gain ranges
Automatic peak detection and calibration
TTL or contact closure for triggering autosamplers etc.
USB compliant
Take advantage of Chart's extensive analysis features and user friendly interface. The Flow Analysis System is for use with Windows XP or later.
The ER18x unit can be used with different eDAQ software packages for different applications. It can be used with Chart software for general purpose data recording, PowerChrom software for recording chromatography data (GC, HPLC, IC, CE etc) and with Chart software plus FIA extension for recording flow injection analysis data.
Included Chart Extensions
The FIA Chart extension enables Chart to automatically detect and calculate the area and height of FIA peaks. Detected peaks are easily calibrated and the results generated displayed in user configurable peak reports. It is also possible to copy and paste results into other applications for further analysis.
The Event Manager Chart extension enables external equipment, such as pumps and autosamplers, to be switched on and off via the unit's digital outputs.
Analog Signal Input
The ER18x unit is suitable for use with most detectors used in FIA experiments.
Peak Assignment
Users can assign a peak as either 'Calibration', 'Sample' or 'Excluded' from calculations. Calibration amounts are entered into a peak table, and the mean and standard deviation of repeats are automatically calculated. Sample amounts are calculated from the calibration data and displayed in the peak table.
Calibration Response Functions
Calibration curves can be fitted with linear, linear through origin, cubic, quadratic, or even point-to-point (linear interpolation) response functions.
Manual Peak Editing
Start and end-points of detected peaks can also be manually adjusted. Peaks can also be added or deleted.
Citations
Determination of chloride in admixtures and aggregates for cement by a simple flow injection potentiometric system. Jaroon Junsomboon, and Jaroon Jakmunee. Talanta, 76, 365-368, 2008.
Flow injection determination of free fatty acids in vegetable oils using capacitively coupled contactless conductivity detection. Ahmad Makahleh, and Bahruddin Saad. Analytica Chimica Acta, 694, 90–94, 2011
More Information

ER180F_ER181F_Flow_Analysis_System (450 KB PDF)

Add to Shopping Cart