Disk Electrodes

Voltammetric Electrodes for electrochemical research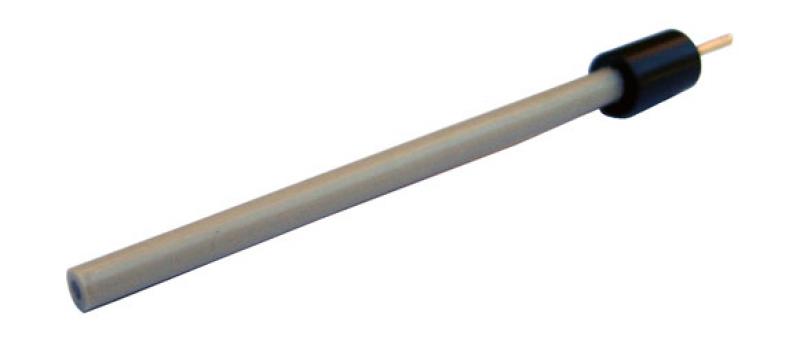 Robust PEEK body
Organic solvent resistant
Miniature size for small sample volumes
eDAQ supplies a variety of
1 mm diameter disk electrodes encased in 3 mm outer diameter (OD) diameter PEEK (polyetheretherketone) bodies, and
3 mm diameter disk electrodes encased in 6 mm OD PEEK bodies.
They are ideal for electrochemical voltammetric experiments such as cyclic voltammetry, square wave voltammetry, etc, where they are used as a 'working electrode' connected to a potentiostat.
The electrodes are very robust. PEEK is nearly as chemically inert as Teflon, but much tougher, so that the disk is less likely to separate from the electrode body.
The electrodes can be used in aqueous as well as most organic solvents (including methanol, ethanol, acetonitrile, dimethyl sulfoxide, dichloromethane, propylene carbonate, and tetrahydrofuran).
Cleaning instructions
here
.
1 mm Disk Materials, 3 mm OD PEEK body
Several reference and auxiliary electrodes are also supplied:
Reference Electrodes
Auxiliary/Counter Electrodes
More Information

eDAQ_Disk_Electrodes (470 KB PDF)
Ordering: Disk Electrodes Voltammetric Electrodes for electrochemical research

Also see:
ET072-1 Leakless Miniature Ag/AgCl Reference Electrode
ET072-3 Leakless Miniature Ag/AgCl Reference Electrode - 3 pack
ET073-1 Refillable Miniature Ag/AgCl Reference Electrode
ET073-3 Refillable Ag/AgCl Miniature Reference Electrode - Set of 3
ET078-1 70 mm Auxiliary Electrode
ET078-3 70 mm Auxiliary Electrode - Pack of 3
ET080-12 3 mL Electrochemistry V-vial - Pack of 12
ET081-6 Magnetic Spin Vane - Pack of 6
ET082-6 PTFE Drilled Gasket - Pack of 6
ET014 EChem Electrode Kit