SDx-T10

tethaPlate, pack of 10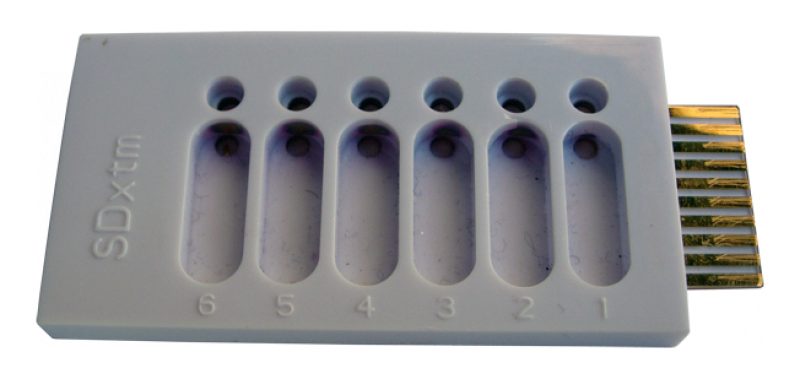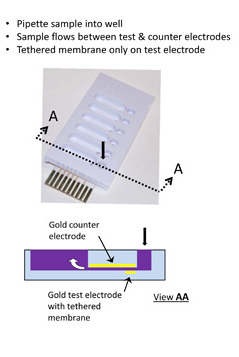 The tethaPlate™ is a 6-chamber sample holder for tethered membrane preparations. It is used in conjunction with a tethaPod or tethaPatch system for the determination of membrane conduction and studies of protein ion channels.
The working electrodes are pre-coated with tethering agent and the plate is ready for the addition of phospholipids for membrane creation. The tether/spacer ratio is normally set at 1:10. Other ratios can be supllied on special order.
The tethaPlate is delivered in two sections which are assembled with the aid of an Assembly Jig. See how to assemble a tethaPlate and make a tethered membrane in the Photos & Videos tab.
Trademarks: tethaPod, tethaPatch, tethaPlate, and tethaPlasm are trademarks of SDx Tethered Membranes Pty Ltd.
Sample chambers: 6
Tethering electrode: gold, 3.0 x 0.7 mm (area 2.1 mm2)
Body: white polycarbonate, 75 x 39 x 7 mm
Electrode substrate: transparent polycarbonate, 75 x 25 x 1 mm
Flow channel depth: 0.15 mm
Loading port: 4.5 mm diameter circle, 4.5 mm deep
Waste port: 22 x 7.5 mm, 4.5 mm deep
Tethers: benzyldisulphide-tetraethyleneglycol-monophytane
Spacers: benzyldisulphide-tetraethyleneglycol
Tether/Spacer ratio: 1/10
Long term storage: 4°C
Usage: 0 - 45°C
More Information

SDx-T10_tethaPlate (630 KB PDF)
Ordering: SDx-T10 tethaPlate, pack of 10

Also see:
SDx-S1 Phospholipid Mix
SDx-A1 tethaPlate Assembly Jig
SDx-R1 tethaPod
SDx-R2 tethaPatch