ER430

High Voltage Sequencer for Microchip Electrophoresis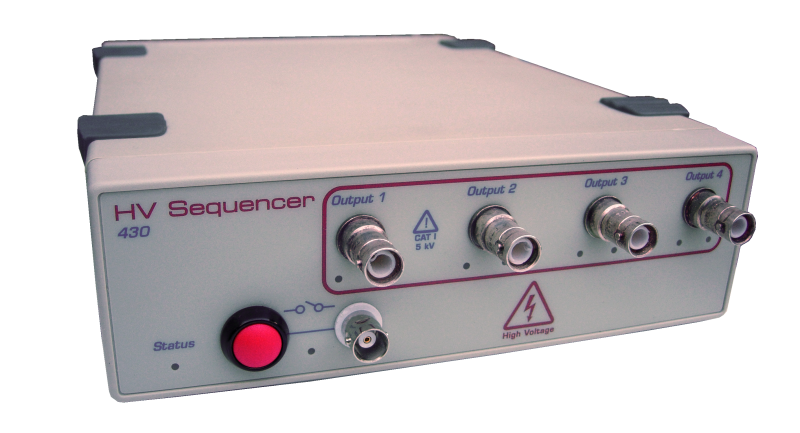 Up to ±3000 V at 150 μA
Switching times better than +/- 0.002 s accuracy
Four high voltage outputs which monitor current and voltage
Programmable logic outputs for control of external devices
Utilizes sequencer software or operate via serial communication
The ER430 is a high voltage power supply with four channels designed specifically for microchip electrophoresis. It can also be used as a voltage source for electrokinetic chromatography and micro reactors/mixers based on electro-osmotic flow (EOF) pumping.
Monitoring of voltage and current is provided on each of the four high voltage output terminals to quickly identify any problems caused by bubbles and channel blockages. Feedback control of output voltage provides for accurate and stable operating conditions. Programmable logic outputs on the rear panel can be used to control external devices.
A safety interlock feature ensures the unit can only be armed by conscious action of the user.
It includes the easy-to-use QuadSequencer™ software to create sequences of voltages for applying to the microchip. Alternatively, the unit can be operated as a virtual RS232 devices using a serial protocol over a USB connection with custom written software or using packages such as LabVIEW, Connect, WinWedge or HyperTerminal.
Connects to the ET225 Micronit Chip Electrophoresis Platform . Researchers using their own microfluidic chips will need to order the EC230 High Voltage Cables.
The sequencer may be powered by a 12V battery (allowing it to be used in the field) or via its 110-240V AC supply in the lab.
Research Areas
Application Notes
Citations
High voltage outputs: 4, with SHV connectors
Maximum voltage: ±3 kV per channel
Maximum current: 150 µA per channel
Safety interlock: contact closure, BNC connector
Output modes: OC = open circuit
SC = short circuit to ground (current meter)
HiZ = high impedance voltmeter
SetV = sets voltage (current and voltage displayed)
More Information

ER430_HV_Sequencer (580 KB PDF)
Ordering: ER430 High Voltage Sequencer for Microchip Electrophoresis

Also see:
ES430 QuadSequencer Software
ER455 Microchip Electrophoresis Kit
ET225 Micronit Microchip Electrophoresis Platform