ET130

IC/HPLC C4D Detector Headstage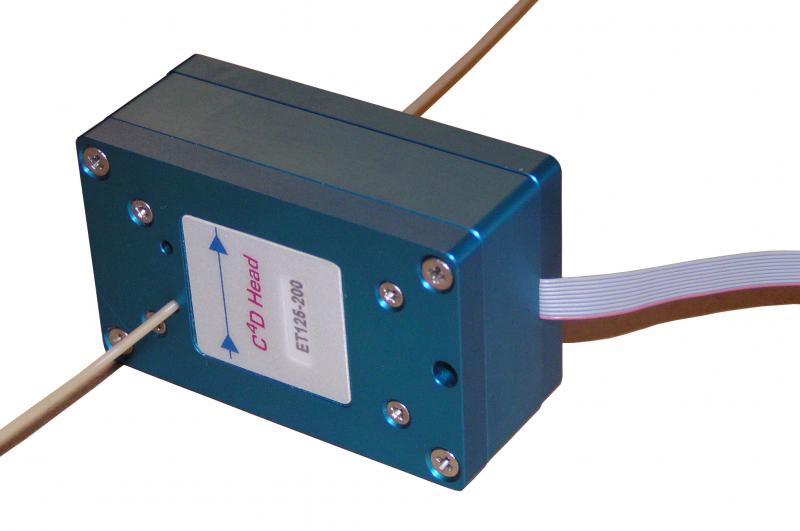 Conductivity detector for IC, HPLC and FIA
Conductivity range: 150 µS/cm to 15 mS/cm
Excellent peak resolution
The ET130 is contactless conductivity detector for ion chromatography, HPLC and flow injection analysis. It must be connected to either the ER225, ER815 or ER825 hardware units.
It has a large conductivity range of 150 µS/cm to 15 mS/cm. The C4D electrodes spacing is set to a minimum to resolve analyte peaks.
Detection is contactless: the sample doesn't come into contact with the detector electrodes, so it is easy to analyse hazardous, corrosive or radioactive liquids. There is no electrode deterioration or polarization. It can be used with many tubing materials, including PEEK and PTFE (Teflon). The tubing from the IC/HPLC instrument can either be slid directly into the headstage (it designed for tubing with 125 µm ID and 1600 µm OD) or it can be connected to the tubing provided inside the headstage.
The ET130 is in the same family as the:
Conductivity range: 150 µS/cm to 15 mS/cm
Electrode ID: 1.6mm
Electrode Gap: 4mm

More Information

ET130_IC_HPLC_C4D_Detector_Headstage (140 KB PDF)

Add to Shopping Cart

Also see:
ET125 General Purpose C4D Monitor Headstage
ET131 Configurable C4D Detector/Monitor Headstage
ET120 C4D Headstage for Capillary Electrophoresis
ER225 Contactless Conductivity C4D System
ER815 Contactless Conductivity Detector