ER815

Contactless Conductivity Detector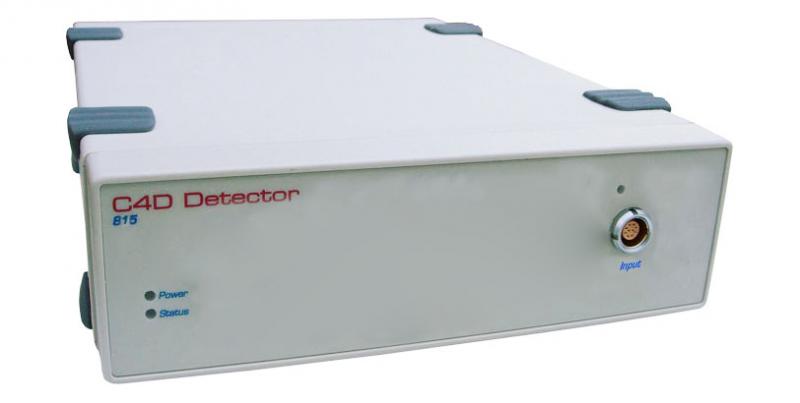 For electrophoresis and chromatography techniques
Works with both eDAQ and third-party software
Wide settings range for optimum conductivity detection
The ER815 C4D Detector is a high sensitivity capacitively-coupled contactless conductivity detector (C4D). This single channel system can be used for capillary electrophoresis, microchip electrophoresis, ion chromatography/HPLC, flow injection analysis and novel applications.
The excitation frequency and amplitude can be optimised by the user for maximum signal sensitivity. The unit must be used together with an eDAQ C4D headstage suitable for your application.
The ER815 is available in the following configurations, depending on your application:
ER815R: includes PowerChrom software, for capillary electrophoresis, microchip electrophoresis and chromatography-type applications.
ER815C: includes Chart software, for flow injection analysis and conductivity monitoring applications.
ER815: for people wishing to use third-party software to record the data. This includes ChemStation from Agilent, 32 Karat from Beckman Coulter and LabVIEW (using the virtual serial interface over USB connection to computer). In this configuration, the ER815 provides both analog and serial data output.
Users can change the configuration of their ER815 themselves at any time, from using eDAQ software to third-party software or vice-versa, using the ER8x5 Converter and Updater software.
The product comes with the following software included: C4D Profiler V2 (to optimise the settings), C4D Configurator (to select the settings) and ER8x5 Converter and Updater (to change the firmware).
The ER825 C4D Detector is a multi-channel version of the single-channel ER815. The ER825 can record the conductivity at up to eight positions on a capillary or tubing.
Trigger cable if required must be ordered separately: EC073 BNC termintion or EC074 Tinned ends
Research Areas
Technical and Application Notes
Technical Notes
Application Notes
Channels: 1
Input connector: 10 pin LEMO (for C4D) or DIN (for other detectors)
Signal gain: x1, x10, x100
Analog signal resolution: 16 bits (Chart software), 24 bits (PowerChrom software)
Virtual serial port resolution: 24 bit
Input gain ranges: ±20, 50, 100, 200, 500 mV ±1, 2, 5 V
Excitation frequency: 20 — 2000 kHz
Excitation amplitude: 1 — 20 V AC p-p, sinusoidal, @ <50 mA
Offset: ±5.5 V on ±10 V output range
Low pass filters: 1000 (off),10, 1 Hz
Output signals: ±5 V max, or USB with virtual serial interface
Back panel connectors: BNC (analog voltage), USB (virtual RS232 serial)
Trigger input from a Contact closure or TTL; Trigger cable can be ordered separately
Power requirements (mains adaptor supplied): 12 V DC, ~10 W
Dimensions (h × w × d): 65 × 200 mm × 250mm (2.6 × 7.9 × 9.8")
Weight: 1.8 kg (4.3 lb) maximum
Operating temperature: 0 to 35 °C
0 to 90% humidity (non-condensing)
The optimum excitation frequency and amplitude can be measured using the C4D Profiler V2 software.
The excitation frequency and amplitude can be set by using:
- When serial firmware is installed: use C4D Configurator software.
- When applications firmware is installed: use the option in PowerChrom or Chart software.
The firmware can be changed by the user at any time, between serial firmware (signal recorded in third-party software) and applications firmware (signal recorded in eDAQ software), using the ER8x5 Converter and Updater software.
eDAQ reserves the right to alter these specifications at any time.
More Information

ER815_C4D_Detector (270 KB PDF)

Add to Shopping Cart

Also see:
ER825 Multi-Channel Contactless Conductivity Detector
ET120 C4D Headstage for Capillary Electrophoresis
ET125 General Purpose C4D Monitor Headstage
ET130 IC/HPLC C4D Detector Headstage
ET131 Configurable C4D Detector/Monitor Headstage