ES280

PowerChrom Chromatography Data System (CDS) Software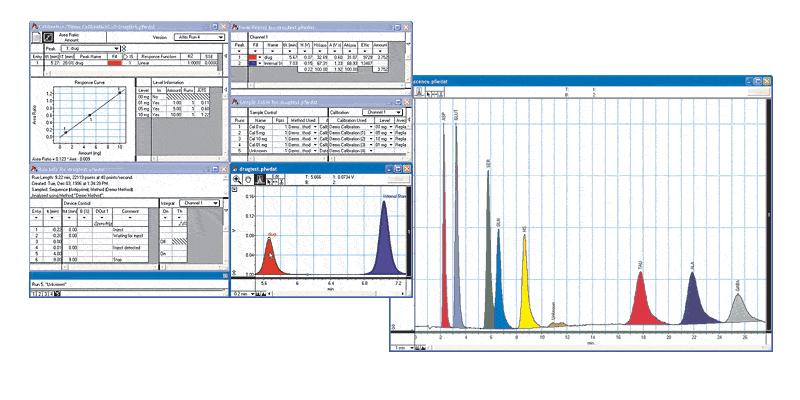 PowerChrom software is used for the collection, display and analysis of chromatographic and similar signals.
Turns your computer into a chromatography data workstation
No programming required - just plug and play
Collect signals from one or two detectors
Up to 24 bit resolution
Independently selectable input ranges from ±20 mV to ±10 V
Digital signal processing gives superior signal-to-noise ratio
TTL or contact closure for triggering autosamplers etc. (PowerChrom 280 system)
USB 2.0 and 1.1 compliant
Runs on Windows 10, XP, Vista and 7 computers.
PowerChrom is supplied as part of the PowerChrom system, or separately for use with e-corder recording systems. Signals can be recorded from one or two chromatography detectors. Most detectors that have a "recorder" or "integrator" output are suitable.
Software Features
Update Your Chromatograph

PowerChrom is the ideal data acquisition system for upgrading your GC or HPLC. Throw away paper recorders, integrators, and DOS-based systems, and work with the latest generation of computing technology.

Automatic or manual operation is possible (depending on you chromatograph configuration). Autosamplers and fraction collectors can be triggered with contact closure or TTL signals. Multi-run experiments are controlled via sequence documents (PowerChrom system).

GLP

PowerChrom is designed to help you with good laboratory practice:

All runs are date and time stamped
Methods used for data collection and analysis are recorded
Extensive annotation facilities store observations, and keep track of sample numbers etc
Data is saved to hard disk every thirty seconds, and can be recovered in the event of a power outage
All information (methods, calibrations, peak reports, as well as raw data) is stored in the one convenient data file, which can contain up to 999 runs!
All intermediate versions of calibration tables can be accessed

Export Friendly

You can export raw chromatograms (as graphics or tabular data), peak reports, and method and sequence tables, to other graphing software, word processors, and spreadsheets.

Manual Peak Editing

For difficult peaks, when adjusting automatic thresholds becomes time consuming, just use manual peak editing to add, delete, skim or otherwise directly edit a peak - just point and click!

Calibration Response Functions

Calibration curves can be fitted with linear, quadratic or even point-to-point (linear interpolation) response functions.

Sequences for Automation

Sequence documents can be used to automate a series of runs when used with a suitable autosampler. (PowerChrom 280 system).

Digital Signal Processing

PowerChrom oversamples the signal then averages the readings for each data point gathered, giving enhanced signal-to-noise ratios. Also, at recording speeds of 40 /s or less, the signal is averaged over whole mains cycles (50 or 60 Hz mains power), which eliminates the effects of mains hum. Thus you always get the highest quality data possible from your detectors.
Research Areas
Application Notes
More Information

ES280_PowerChrom_software (890 KB PDF)

ER280_PowerChrom_280_system (420 KB PDF)
Ordering: ES280 PowerChrom Chromatography Data System (CDS) Software
FREE Software Trial
To obtain a temporary 4 week license to evaluate eDAQ software, please send your request to info@edaq.com